How electric vehicles (EVs) and smart charging infrastructure can contribute to low carbon economy in Malaysia?
2 January 2023 - 2 minutes read
Date: 7th January 2023 (Saturday)
Time: 10:00 am – 12: 00 pm
Platform: (GoogleMeet) https://meet.google.com/ibb-psqi-uxm
No Registration Require
Speaker: Mr. Tan Lim Soon Fu, Chief Technology Officer, EPC Blockchain Sdn Bhd
FREE ADMISSION, MBOT & BEM 2CPD Points Pending for approval
Synopsis:
As governments worldwide are tightening regulations to achieve the path to green sustainability, pressure is mounting for the global auto industry to shift from internal combustion engines (ICE) to EVs. In line with efforts to decarbonize the transport sector, the automotive industry in Malaysia is slowly pushing the EVs and charging infrastructure in the country, but what more needs to be done and how to create a low carbon economy to increase the adoption of EVs? This webinar will introduce the current state of EVs adoption in the country and how decarbonise of EVs can transform into business opportunities and low carbon economy.
Speaker :
Mr. Tan Lim Soon Fu is a Certified Associate in Project Management (CAPM®) with the Project Management Institute (PMI). He has extensive industry experience in facilities management, Internet of Things (IoT), and mobile wireless and web applications. In addition, he has over 20 years of experience in managing mobile wireless solutions and developing web applications. He earned a Bachelor's Degree in Information Technology from the University of Southern Queensland, Australia. He was also conferred with Executive Data Science Certification from Johns Hopkins University, USA. Currently, he serves as Chief Technology Officer for EPC Blockchain Sdn Bhd, which he also Co-founded.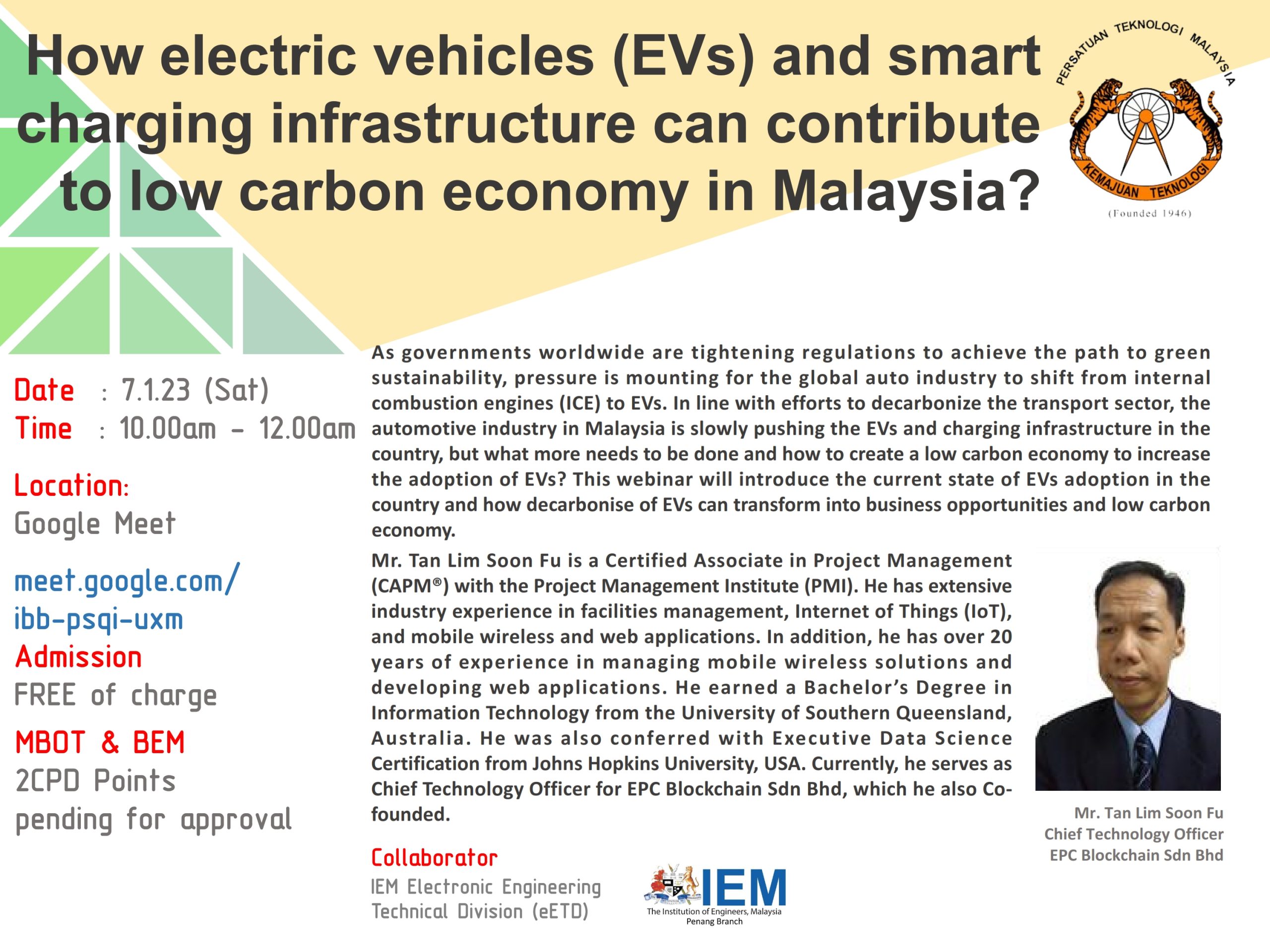 Tags:
carbon economy
,
Electric Vehicle
,
EV