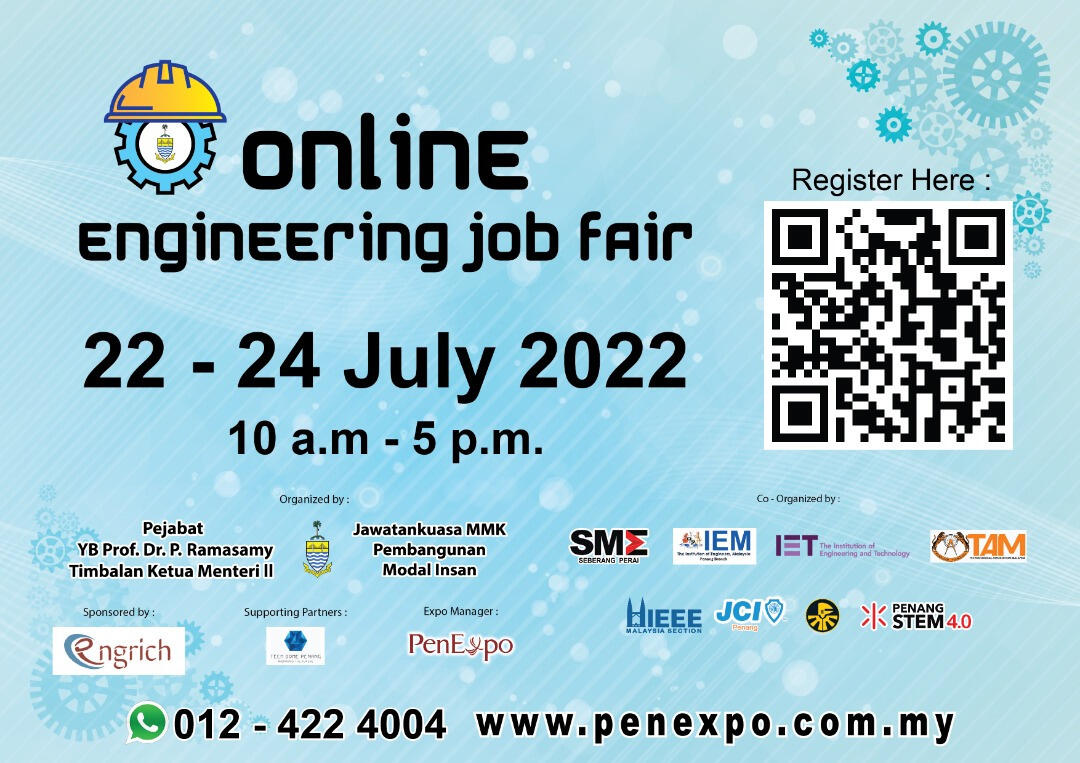 Calling all Engineers!
Are you ready?
The Online Engineering Job Fair is just around the corner!
Come get your dream job here!
REGISTER HERE:
https://onlineengineeringjobfair.com
"Stay Tuned for More Job Posting"
Date: 22 July 2022 till 24 July 2022 (Friday to Sunday)
Time: 10.00 a.m. to 5.00 p.m.
Venue: Online
We would appreciate it if you could help share the above information with your friends. Enclosed herewith is the event poster and list of jobs for your kind attention.
LIST OF JOBS at Online Engineering Job Fair
• Account Supervisor
• Assembly FOL Engineering Senior / Manager
• Associate Engineer (SMT)
• Associate Production Supervisor
• Automation Engineer
• Automation Manager
• Automotive Electronic Design Engineer
• Automotive Software Engineer
• Business Development Senior / Executive
• Business Excellence Manager
• Buyer / Purchaser
• Costing Executive
• Data Analyst
• Debug Engineer
• Design Engineer
• Design Quality Assurance Engineer
• Die Attach / Die Bond / Senior Engineer
• Die Attach Senior Technician
• Die Prep Process Engineer
• Die Prep Technician
• Education Intern
• Education Manager
• Engineering Director
• EOL Engineering Senior / Manager
• EOL Senior Engineer (Package Saw / Mold / Ball Attach / Marking)
• EOL Senior Technician
• Equipment Maintenance Engineer
• Facility Engineer
• Fresh Engineer
• HCI Presales
• Human Resource Supervisor
• IE Engineer
• In Process Quality Engineer
• Industrial Engineer
• Industrial Engineering (Senior Engineer / Assistant Manager)
• Industrial Engineering Manager
• Internal Quality Assurance
• IT Application Developer
• IT Security Analyst
• Lean Engineer / Business Excellence Leader
• Manufacturing / Production Section Head / Manager
• Manufacturing Engineer
• Material Handler
• Material Planner
• Material Planner/ Production Planner
• Mechanical Engineer
• NPI Assistant
• NPI Engineer
• NPI Technician
• Operations Engineering Manager
• Operator
• Operator (E-Plating)
• PA to Managing Director
• Preventive Maintenance Engineer
• Process Engineer
• Process Engineer (SMT)
• Process Engineering Manager
• Process Equipment Engineer
• Process Quality Supervisor
• Product Engineer
• Production Planner
• Production Planning Executive / Senior Executive
• Production Supervisor
• Program Administrator
• Purchasing Executive
• QA Assistant
• QA Engineer
• QA Section Head / Manager
• QA Senior Engineer
• QA Technician
• QMS Engineer
• Quality Engineer
• Quality Lab Supervisor
• Quality Manager
• Sales Admin
• Sales Engineer
• Secretary
• Security Guard
• Security Presales
• Senior Automation Engineer
• Senior Manufacturing Engineering Manager
• Senior Production Executive
• Senior Test Engineer
• Shift Production Supervisor
• Shipping Executive
• Software Engineer
• Software test Development Engineer
• Sourcing
• Sr HR Executive (Recruiter)
• Sr. Education Executive
• Store Supervisor
• Supplier Quality Engineer
• System Analyst
• Technical training Executive
• Technician
• Technician (IT / Production / Test / Injection Molding)
• Test Application Senior Engineer
• Test Development Engineer
• Test Engineer
• Test Equipment / Line Maintenance Senior Engineer
• Test Equipment / LM Senior Technician
• Test Equipment Section Head / Manager
• Test Process Senior Engineer
• Test Product Engineering Section Head / Manager
• Test Product Senior Engineer
• Test Product Technician
• Test Wafer Sort Senior Engineer
• Tester Engineer
• Tester Senior Technician
• Vision Engineer
• Warehouse Analyst
• Wire Bond Engineering Section Head
• Wire Bond Senior Engineer
• Wire Bond Technician