Date:  3rd December 2022 (Saturday)
Time:  10:00 am – 12: 00 pm
Platform:  (Zoom) : meet.google.com/mha-wzyw-jtd
Speaker: Danny Tam Hong Khai, General Manager, Tunas Cool Energy Sdn. Bhd.
FREE ADMISSION & MBOT 2CPD Points Pending for approval
Synopsis:
Cogeneration systems combine power generation technology with waste heat recovery for the simultaneous generation of electrical power and thermal energy. The cogeneration process results in higher primary fuel efficiency compared to separate gen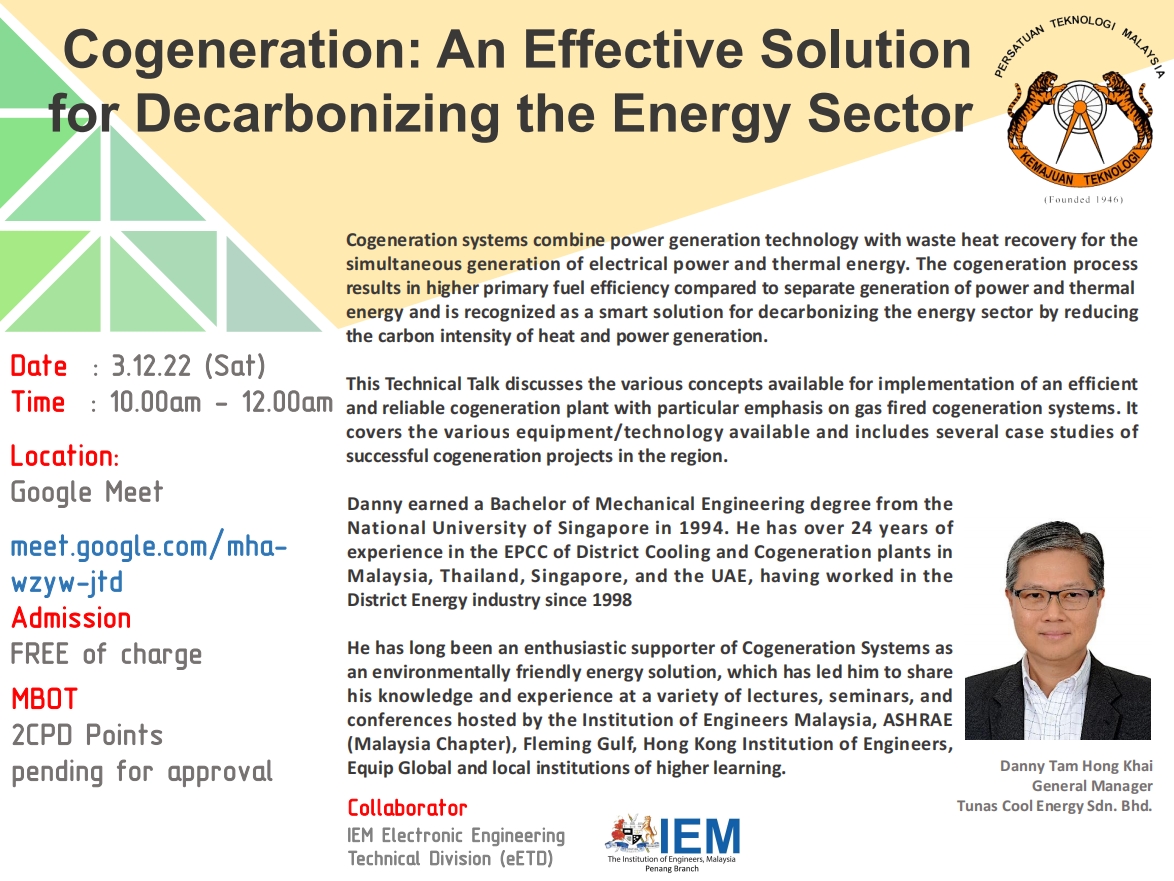 eration of power and thermal energy and is recognized as a smart solution for decarbonizing the energy sector by reducing the carbon intensity of heat and power generation.
This Technical Talk discusses the various concepts available for implementation of an efficient and reliable cogeneration plant with particular emphasis on gas fired cogeneration systems. It covers the various equipment/technology available and includes several case studies of successful cogeneration projects in the region.
Speaker :
Danny earned a Bachelor of Mechanical Engineering degree from the National University of Singapore in 1994. He has over 24 years of experience in the EPCC of District Cooling and Cogeneration plants in Malaysia, Thailand, Singapore, and the UAE, having worked in the District Energy industry since 1998.
He has long been an enthusiastic supporter of Cogeneration Systems as an environmentally friendly energy solution, which has led him to share his knowledge and experience at a variety of lectures, seminars, and conferences hosted by the Institution of Engineers Malaysia, ASHRAE (Malaysia Chapter), Fleming Gulf, Hong Kong Institution of Engineers, Equip Global and local institutions of higher learning.